By Bob Fox
Like the East-West Shrine game in St. Petersburg, Florida, Ted Thompson traveled to Mobile, Alabama to scout prospects at the Senior Bowl this past week.
Unlike the East-West Shrine game, the Senior Bowl has quite a few players who can be expected to be selected in the first three rounds of the draft, including a number of players who will go in the first round.
Needless to say, there were a lot of prospects who looked impressive in Mobile, as well as being very productive on the field at their respective schools this past season and in their careers overall.
I'm naming 10 players who I believe Thompson would love to have on the Green Bay Packers, knowing the needs and questions of the team going into the 2013 season.
Defensive End Margus Hunt (SMU)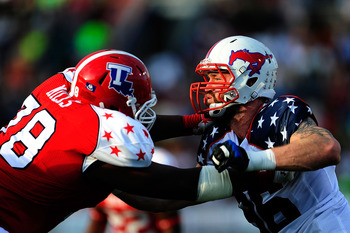 Height: 6'8" Weight: 277 pounds
First, it should be noted, that the Green Bay Packers were one of a number of NFL teams who interviewed Margus Hunt at the Senior Bowl. Hunt not only has great size, but he is also quite an athlete, who also has a track background.
Hunt also has a frame which can add weight, without losing any mobility.
Hunt had a solid senior year for Southern Methodist University, as he had 28 tackles, six sacks, one interception, two pass deflections and three blocked kicks in the regular season.
Hunt followed that up with a great performance in the Hawaii Bowl against Fresno State, as he had a sack for a safety, plus two forced fumbles in a 43-10 win for the Fresno State Mustangs.
Hunt is still raw, but he just keeps improving. He has excellent speed for his size, a massive 82-inch wing span and was named to the 2012 All-Conference USA first-team.
Hunt is sort of the modern day version of Ted Hendricks with his kick-blocking ability. He blocked 17 kicks in his career at SMU.
Hunt got better as the week wore on in drills for the North team.
The Packers need someone with Hunt's height and athleticism at defensive end in their 3-4 defensive scheme.
Hunt keeps moving up the draft boards, and could be selected as early as the first round now. Hunt definitely won't get past the second round.
Defensive End Datone Jones (UCLA)
Height: 6'4"
Weight: 280 pounds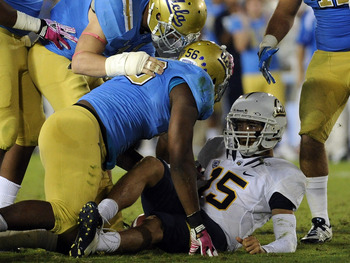 Datone Jones played in the 3-4 quite a bit at UCLA, so he is very familiar with the scheme. Jones played both inside and outside with the UCLA Bruins on their defensive line.
Jones had 57 tackles, five sacks and 19 tackles for a loss past year year, while he had 6.5 tackles for a loss and three sacks in 2011.
Jones missed all of the 2010 season with a fractured foot, but had a very nice year in 2009, playing next to Brian Price, when Jones had 30 tackles, 11 tackles for a loss, two forced fumbles and four sacks.
Jones was named to the 2012 All-Pac-12 Second Team.
The former Bruin had a great week at the Senior Bowl, first in drills during the week for the North team, and also in the game, when he also had his moments.
Jones has the frame to add weight, and he is almost the prototypical height to be a defensive end in the 3-4 scheme.
Jones will most likely get selected late in the first round or early in the second.
Nose Tackle Brandon Williams (Missouri Southern)
Height: 6'2"
Weight: 340 pounds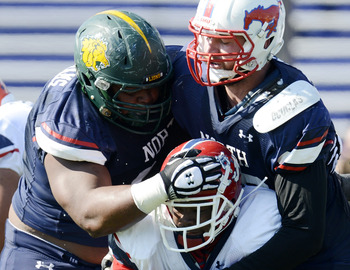 Brandon Williams dominated the AFCA Division II landscape for Missouri Southern, as he was named All-American for the third straight year in 2012.
The massive Williams is very strong at the point of attack, plus he moves very well for a man his size.
Williams had 68 tackles, 16.5 tackles for a loss, 8.5 sacks and five forced fumbles this past season. Overall in his career, Williams had 27 sacks.
Williams didn't disappoint in Mobile, as he was one of the best defensive linemen there and he played very well against BCS competition.
The Green Bay Packers should consider Williams, as Ryan Pickett is not getting any younger, and doesn't have much tread left on his tires. Williams would be a force, especially paired with B.J. Raji on run-stopping downs.
Because of his Senior Bowl performance, it would not be surprising if Williams was selected in the second round, and he certainly won't last past the third round.
Linebacker Kevin Reddick (North Carolina)
Height: 6'1"
Weight: 246 pounds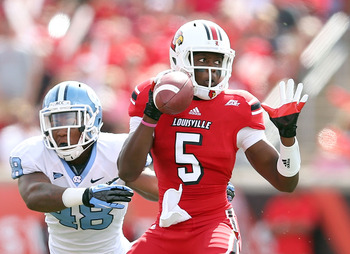 Kevin Reddick of the University of North Carolina was a four-year starter for the UNC Tarheels. He had 85 tackles in 2012, which included 18.5 tackles for losses and 6.5 sacks.
In his career, Reddick had 36 tackles for losses. What does that mean? It means that Reddick is aggressive and attacks the line of scrimmage.
Reddick was named to the 2012 All-ACC First Team (coaches and media).
Reddick can blitz effectively, plus has been decent in coverage as he broke up six passes in 2012.
The former Tarheel looked good in the practice sessions for the North team.
The Green Bay Packers definitely need to look at inside linebacker candidates in this draft. They have a number of issues at that position.
Green Bay lost both Desmond Bishop (hamstring) and D.J. Smith (knee) to season-ending injuries. Both are expected to be ready for the 2013 season, but nothing is a given.
Plus, there is the question of whether A.J. Hawk will be brought back with his $5.45 salary. Brad Jones is an unrestricted free agent. Terrell Manning has ability, but his 2012 season was marred due to illness and injuries.
It's expected that Reddick will most likely be selected in the fourth round.
Safety Phillip Thomas (Fresno State)
Height: 6'0"
Weight: 210 pounds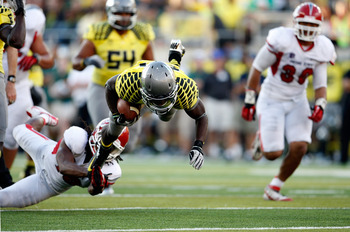 Phillip Thomas led the nation in interceptions this year with eight. Three of those picks were returned for touchdowns.
Thomas also had 82 tackles, 12 tackles for a loss, four passes broken up and four forced fumbles.
He was a finalist for the Jim Thorpe Award and was named to the AP All-American first-team.
Thomas obviously has great ball skills, but he also tackles well and hits hard.The former Fresno State Bulldog didn't hurt his cause at the Senior Bowl, in coverage drills with the North team.
The Green Bay Packers love defensive backs that have a nose for the football, and Thomas certainly has that.
The ball-hawking safety looks to be selected somewhere between the second and fourth rounds of the draft.
Running Back Stepfan Taylor (Stanford)
Height: 5'9"
Weight: 216 pound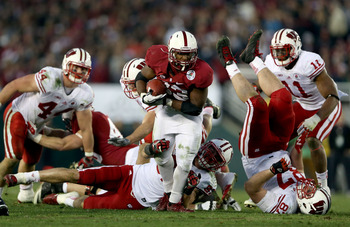 Stepfan Taylor has had a very nice senior season at Stanford, helping to lead the Stanford Cardinal to the Rose Bowl. In the Rose Bowl, Taylor rushed for 88 yards and scored a touchdown in the 20-14 win by Stanford over Wisconsin. Taylor also caught three passes for 17 yards
.
Taylor was named to the 2012 All-Pac-12 second-team at running back. Taylor has 1,442 yards rushing this year, and has 12 touchdowns. In addition to that, Taylor has 38 receptions for 370 yards and two more scores.
In the last three games of the Pac-12 season, Taylor had 114, 161 and 142 yards rushing against ranked opponents Oregon State, Oregon and UCLA.
Taylor had 78 yards rushing and one touchdown versus UCLA in the Pac-12 title game. Taylor also caught six passes for 55 yards.
At the Senior Bowl, Taylor stood out among running backs, along with Mike Gillislee, and he rushed for 53 yards on just nine carries in the game for the South. He also caught two passes for eight yards.
Taylor is an all-around running back, as he is also an excellent blocker. He has the the attributes to be a three-down back with the Green Bay Packers.
The Packers need to address the running back position in this draft. Ryan Grant probably won't be back, plus Cedric Benson is now a year older and coming off a foot injury that shelved his season.
James Starks can't seem to stay healthy, while Alex Green wore down as the season progressed after having an ACL injury the year before.
DuJuan Harris looked pretty good late in the season and the postseason for the Packers at running back, but he looks more like a change of pace-type back.
Taylor is expected to be selected in the third or fourth round of the 2013 NFL draft.
Running Back Mike Gillislee (Florida)
Height: 5'11"
Weight: 207 pounds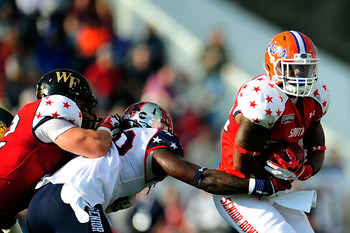 Mike Gillislee of the Florida Gators was named to the All-SEC first-team at running back by both the coaches and the media.
Gillislee had a fine senior campaign, as he had 1,104 yards rushing and 10 touchdowns. Gillislee also had 15 receptions for 146 more yards and another touchdown.
The Gator running back had a great last game of the regular season, when he rushed for 140 yards and two touchdowns against arch-rival Florida State.
Gillislee is one of the main reasons the Gators finished 11-2 and played in the Sugar Bowl, where he gained 48 yards on just nine carries. He also caught a pass for 13 yards in the 33-23 loss to Louisville.
At the Senior Bowl, Gillislee looked very good during practice sessions, plus had 46 yards rushing on 10 carries in the game for the South.
Gillislee has the same abilities that Stepfan Taylor has, plus is an exceptional blocker picking up blitzes.
The former Gator is also expected to be selected in either the third or fourth round of the 2013 NFL draft.
Wide Receiver Quinton Patton (Louisiana Tech)
Height: 6'0"
Weight: 202 pounds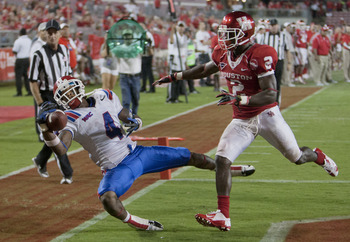 Quinton Patton had a monster senior year for Louisiana Tech, as he caught 104 passes for 1,392 yards and 13 touchdowns.
This was after he had 79 receptions for 1,202 yards and 11 touchdowns in his junior year.
Patton was named to the 2012 All-WAC first-team and the 2012 AP All-American second-team.
Patton followed that up by having a great week at the Senior Bowl. When the ball was anywhere near him on a pass attempt, he always seemed to go get it at practices.
With the expected retirement of Donald Driver, and with Greg Jennings most likely leaving via free agency, the Green Bay Packers need to address their depth at wide receiver.
Patton looks to be drafted in the third round, but could go as early as the second round after this past week.
Center/Guard Brian Schwenke (California)
Height: 6'3"
Weight: 307 pounds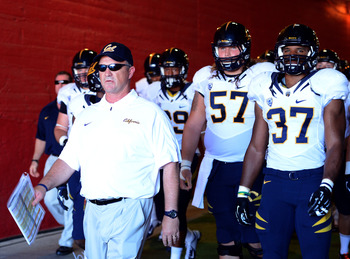 The California Golden Bears didn't have a great season as a team (3-9), but center Brian Schwenke stood out with his play on the field.
In fact, Schwenke was named to the 2012 All-Pac-12 First Team.
Schwenke also stood out this week at the Senior Bowl. At least according to Mike Mayock of NFL Network. And Mayock definitely knows what he's talking about.
Schwenke was able to handle people like John Jenkins (Georgia) in practice, as he showed decent strength and some nice quickness. He also showed that he can use leverage to his advantage.
In addition to his prowess at center, Schwenke also has experience playing guard as well.
The Green Bay Packers need to address their quality depth on the offensive line in all areas in 2013, but especially on the inside.
Offensive Lineman David Quessenberry (San Jose State)
Height: 6'5"
Weight: 294 pounds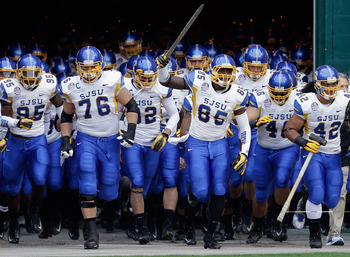 David Quessenberry was the first offensive linemen in San Jose State history to be selected to the Senior Bowl. He certainly played like he belonged as well in Mobile. Quessenberry was part of an offensive line at San Jose State for a team that finished 11-2 and won the Military Bowl.
Quessenberry was also named to the 2012 All-WAC First Team (coaches).
Quessenberry stood out this week at the Senior Bowl for a couple of reasons. One, he performed very well for the North team in drills. Secondly, he did that at multiple positions, including center. He also excelled at guard and tackle.
The Green Bay Packers absolutely love offensive linemen who are versatile.
Based on his performance at Mobile, expect Quessenberry to be selected no later than the third round.