By Michelle Noyer-Granacki
With so many veterans potentially on their way out the door unless the Packers can offer them competitive contracts, which will limit their ability to acquire top-notch outside free agents, the Green Bay Packers are going to need to find some Week 1 contributors in the high rounds of the 2014 NFL draft.
The following players, chosen based on the Packers' highest-demonstrated areas of need—safety, defensive tackle and linebacker—have the raw talent and the track record to start in the season opener in 2014 but could be selected up through the third round.
Ted Thompson drafts for value, and while obvious choices like free safety Ha Ha Clinton-Dix will appear in this list, Thompson may be able to find a valuable player like strong safety Deone Bucannon later in the second round, allowing him to fill Green Bay's defensive line need in the first round.
Any of the following players could produce for the Packers starting as early as Week 1 in 2014.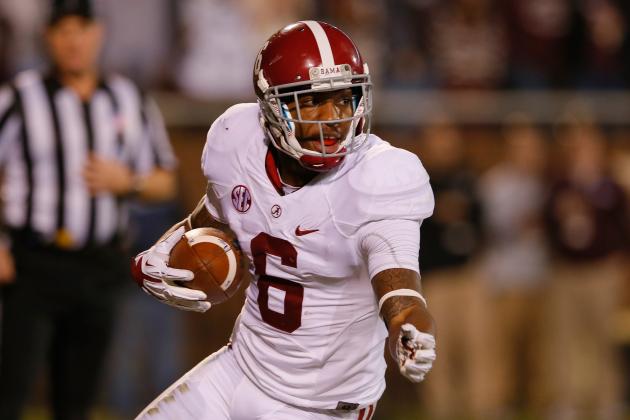 The one position at which the Packers could make an upgrade this offseason and immediately improve the entire defense is safety.
Green Bay has holes to fill all over the field on defense, including on the defensive line and at inside linebacker. But adding a playmaking safety like Clinton-Dix could help plug up the Packers' No. 24 pass defense in 2013.
The safety group did not produce a single interception in 2013 for the first time in decades. Clinton-Dix is skilled at anticipating the pass by reading the quarterback and getting into position to make plays on the ball. He had seven interceptions in the last two seasons at Alabama, which was tied for the most in the SEC.
Though Rob Rang of CBSSports.com notes that Clinton-Dix isn't a consistently physical tackler, he offers major upside in terms of creating plays in the open field. If the Packers find him still on the board at No. 21 overall, he would be a definite Week 1 starter.
If Clinton-Dix is off the board by the Packers' 21st pick and Thompson selects Calvin Pryor there instead, Green Bay could end up better off for it. NFL.com's Daniel Jeremiah is one of many analysts who rank Pryor ahead of Clinton-Dix at free safety.
What does Pryor offer as an instant starter that Clinton-Dix does not? He's very possibly a more complete safety who would not take as long to adjust his tackling technique after moving to the pros, already demonstrating an ability in his film to tackle forcefully.
The hard-hitting safety, according to NFL.com's draft analysis, "might be the most physical football player in the entire draft." He offers the double benefit of physical coverage in addition to having a nose for the ball and the ability to create turnovers for the defense.
Pryor is a player who could come out strong in Week 1 and, within a few weeks, set Green Bay's pass defense back on the right track in 2014 by lowering the incidences of missed tackles and increasing the turnover differential.
Whichever defensive lineman the Packers select in the 2014 NFL draft—and it's a virtual certainty they will select one—will need to be ready to start in Week 1. Ra'Shede Hageman, however, will be more ready than most.
With four defensive linemen—B.J. Raji, Ryan Pickett, Johnny Jolly and C.J. Wilson—set to become unrestricted free agents in a few weeks, the Packers will have some huge gaps to fill on the line. At 6'6" and 311 pounds, Hageman's sheer physical presence alone is enough to make an impact instantly for the Packers, but he combines it with rare speed and agility.
There's no doubt Hageman would excel as a defensive tackle in a 4-3 scheme, but he'd also be a great fit at 3-technique in Green Bay's 3-4 scheme from Week 1. He's a disruptive player who can collapse the pocket, and with some discipline in the Packers' scheme, a potential issue with penalties can be avoided.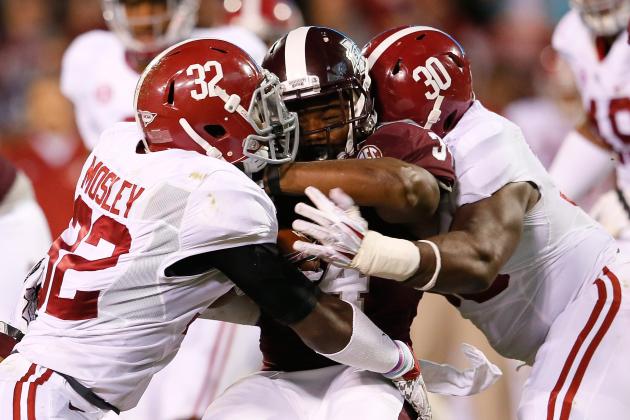 The top-ranked linebacker in the 2014 draft, C.J. Mosley is likely to be on the board by the time the Packers select with the 21st overall pick.
Will Thompson value the inside linebacker spot so highly? Probably not if Clinton-Dix is still on the board, especially given that the Packers have two starters in A.J. Hawk and Brad Jones. But that combination wasn't perfect in 2014, and if Thompson wants to draft for value in the first round, he'll have a hard time passing Mosley up.
NFL personnel executives speaking to NFL.com's Daniel Jeremiah compared Mosley to NaVorro Bowman, and if in his professional career he can reach Bowman's level of productivity, he would be a game changer for Green Bay's front seven.
Certainly, at least, he is a player who could take starting snaps in Week 1 and make a measurable impact.
Mosley shows up on the stat sheet, which quells any concerns that he would have a diminished role in a 3-4 defense. Playing as the starting weak-side linebacker for Alabama, he had seven tackles for a loss, four sacks and two interceptions, displaying the ability to get after the quarterback and the run alike that the Packers needed in 2013.
There's also the intriguing possibility that Mosley could play on the outside opposite Matthews, bolstering a pass rush that has been lacking due to Nick Perry's ill-timed injuries.
As long as there are no lingering medical concerns after he suffered a torn meniscus in 2013, Louis Nix could be a Week 1 starter for the Packers out of need as much as for the level of his play, due to the possible depletion of the defensive line in free agency this offseason.
The 340-pound Nix has struggled with his weight, but CBSSports.com's Dane Brugler, who has the Packers taking Nix at No. 21 in his mock, notes that he carries his weight naturally and is exceptionally light on his feet.
Having been compared to the Packers' own Raji, Nix could step in and replace him if Green Bay elects not to re-sign him this offseason. Regardless of his lack of production since moving from nose tackle in 2011 and his highly criticized rejection of the Packers' initial $8 million offer, Raji is still a key player in Green Bay's scheme, and replacing him won't be easy.
Nix's athleticism and agility, combined with his size and power, make him a good option to do just that.
If the lack of turnover opportunities was the Packers' biggest issue on defense in 2013—and it arguably was, aside from missed tackles—Bucannon could be Green Bay's solution starting in the season opener.
The top-ranked strong safety in the draft, Bucannon nonetheless will likely still be on the board by Green Bay's pick in Round 2, and selecting him there after taking a defensive tackle in the first is probably the Packers' best bet for ultimate value out of their high-round picks.
The 215-pounder delivers hard hits, but he can also create opportunities for takeaways in the secondary. Bucannon tied for the lead in interceptions in the Pac-12 in 2013, with six...but he also led the conference in total tackles, with 114.
That kind of versatility is precisely what the Packers need out of a struggling safety group that failed to consistently take the correct angle on tackles and to produce interceptions in 2013.
Even though he could go in the second or even the third round, Bucannon will be an instant contributor in the NFL.
Thompson won't overlook Kyle Van Noy for his slightly underwhelming frame, though many NFL executives may. Their loss would be the Packers' gain if Thompson can walk away from the first two rounds with Van Noy.
Van Noy could be an excellent pairing with Clay Matthews on the outside, able to match Matthews' ability to diagnose plays and his tenacity in pursuit. And he produces, despite his lack of physicality; he had 13 sacks in his junior year alone and finished his career at BYU with 26.
That BYU already employs a 3-4 base defense is another compelling reason why Van Noy could easily transition to the Packers' scheme and become a Week 1 starter.
Above all, the Packers need a disruptive force to complement Matthews on the outside, and Van Noy could be it, without necessarily commanding a first-round pick. Even if the Packers keep Perry on the other side for another year, wanting to see what he can do when he's fully healthy, Green Bay got into serious trouble with lack of depth at outside linebacker in 2013.
Both his demonstrated play in his film and his stats, including 62 tackles for loss and 11 forced fumbles, not to mention a handful of interceptions in his last three years at BYU, make Van Noy a strong second-round target for Green Bay.
Michelle Noyer-Granacki is a featured columnist for bleacher report, She also works in acquisitions at the sports publisher Triumph Books and spends her Saturdays logging college football games at the Big Ten Network studios in Chicago.
We are lucky to have her stories featured here at GBpackeraddicts.com . Please check out all her work and all the Packer stories on bleacher here ~ http://bleacherreport.com/green-bay-packers