By: Matt Bove
With training camp quickly approaching, here is my list of Packers who have the potential to have a breakout season this year.
1. Nick Perry OLB- Perry was the Packers' first round pick in 2012 with the anticipation that he would finally give them a legitimate pass rushing threat opposite Clay Matthews.
Perry had a tough time transitioning from a 4-3 defensive end at USC to a 3-4 outside linebacker with the Packers last season. Perry played in six games and recorded two sacks before being put on injured reserve due to a wrist injury.
At 6-foot-3 and 265 pounds, Perry is a little big for the position and needs to develop more speed and counter pass rushing moves. He has a very good bull rush, but you can only over power big and strong NFL offensive linemen for so long. Perry set a good edge against the run, but struggled with his big frame going into coverage and that is something that he was never really asked to do at USC.
The Packers drafted Perry based on his great combine numbers and his pure athleticism. After essentially red-shirting his rookie year, Perry should have a better grasp of the defense so that those physical skills can shine through. He has the potential and tools to be a worthy sidekick to Matthews, and the Packers need him to get it done this year, since he is one player that they will have this year that can be an improvement over what they had last year.
2. Jermichael Finley TE- The Packers and their fans have been waiting for a breakout season from Finley for a long time now.
He has shown flashes in the second half of the 2009 season, the 2009 Wildcard playoff game at Arizona, the first five games of 2010 and the second half of 2012, but he has yet to put it together over a full season. If Finley ever is going to put it together over a full season it should be this season.
Despite breaking the Packers record for catches in a season with 61, Finley still had a very up and down 2012. After Finley caught a huge 40-yard pass that put the Packers in position to complete a comeback at Detroit his season seemed to turn around. Since that point, he caught 29 passes for 330 yards the rest of the regular season. He dropped very few balls and started to meet with Aaron Rodgers every Saturday night to go over the game plan. That kind of focus has always eluded Finley, so maybe a light finally went off for him.
With Greg Jennings and Donald Driver gone, the fourth and fifth wide receivers for the Packers are an uncertainty. This should mean more opportunities for Finley than he had last year. He is in a contract year and will be looking to take advantage of that. While his he has not looked like the same athlete he did before his ACL injury in 2010, he still has plenty of speed, size and strength to be a great tight end. Maybe this is finally the year he does it.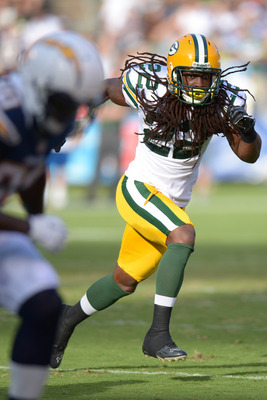 3. Jerron McMillian S- The Packers chose not to address the safety position in the draft or free agency, so they are putting their faith that either McMillian or M.D. Jennings will grab hold of the spot opposite Morgan Burnett.
McMillian flashed some potential in his rookie season in 2012, but was inconsistent overall. With McMillian coming out of a small college like Maine that was not a surprise. He finished the 2012 season with 31 tackles, one interception and 13 pass breakups.
McMillian did not start a game, last year but spent a lot of time on the field in sub packages. His greatest attribute was his physicality, which the defense is certainly in need of. He got lost at times in coverage, but showed the ability to be a solid in the box player. That would allow Burnett the opportunity to play more in center field. The opportunity will be there for McMillian to start and be a key contributor to the defense this season.
4. Mike Neal DE- Neal had a breakout season of sorts last year over 10 games, but now he will have to do it over 16 games.
In those 10 games, Neal recorded 4.5 sacks, four quarterback hits, and 17 hurries, according to Pro Football Focus. He received a 7.2 pass rushing grade from PFF last season.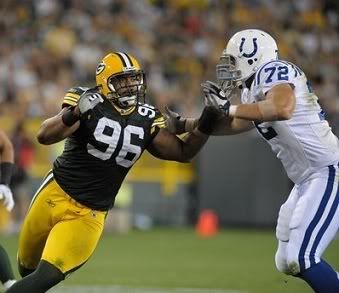 In the OTA's this offseason, the Packers tried him out at outside linebacker in addition to his customary spots at DE in base and inside in nickel. At 6-foot-3 and 294 pounds, Neal seems very big to play outside linebacker, but the Packers would not be wasting valuable practice time on it if they were not seriously consider giving him playing time there in the regular season.
The Packers feel as though Neal is athletic enough for it work, but I would just let him focus on rushing inside from the nickel, where he excelled last season. The addition of first round pick Datone Jones might have something to do with Neal getting time at outside linebacker, as Jones will receive a lot of playing time rushing next to B.J. Raji in the nickel.
Neal's inside pass rush could be very valuable to the Packers next season. He has always flashed potential when playing and healthy. He is a physical freak who can flourish if he finally stays on the field for 16 games.
5. Davon House CB- House was the leader in the clubhouse to start at corner last season in training camp before a left shoulder injury suffered in the first preseason game forced him to miss action and wear a harness for the whole season.
House will have plenty of competition for snaps at cornerback with Tramon Williams, Sam Shields and Casey Heyward. All three players have played at an elite level at times, so House will have his work cut out for him. However, the coaches have said that the four players will have an open competition, so House will have a fair shot at a starting job. Even if House is just the dime cornerback he will see plenty of time, since the Packers led the NFL in plays out of their nickel and dime packages last season.
House has an ideal body for the position at 6-foot-1 and 195 pounds. He is the Packers' most physical corner and excels in press and bump-and-run coverage. It will be very interesting to see House at full strength again.